Our Products:

Fluted Rollers


Roller stands


Nose Bars



Bottom Apron Tension Devices

Traverse Motion


Draft Gearing Unit


Top Arm Bars


Top Rollers


Drive studs


Brake Pads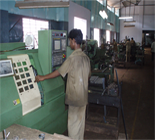 NATHAN INDUSTRIES was established in the year 1963, for the manufacture of Bottom Rollers - Fluted and Knurled with the technical help of M/s.TEXTOOL COMPANY LTD., Coimbatore and started its manufacturing and supplied as a Original Equipment supplier to M/s.TEXTOOL Company limited, and also started supplying it to the Textile Mills for replacement market.

Since then we are regulary updating our process and machiney to produce the best quality rollers, Our company was the first manufacture to produce cold rolled flutes and Knurles for bottom rollers in India in the year1997.Similarly we introduced High frequency Induction hardening for our products. We were the only company to produce Comber
detaching rollers made of single piece next the machinery manufactures in earlier times.

We are now equipped with upto-date Machinery, Process and Technology. We are one of the leading manufacturers of Bottom Fluted and knurled Rollers for all process for all makes of Textile machinery and Various Drafting materials for Textile mills. Our products quality meets the standards set by most of the 100% EOU units who are more concentrating on the yarn quality aspects.

We supply our products to all the leading mills in India and also export our products to various countries.