Our Products:

Fluted Rollers


Roller stands


Nose Bars



Bottom Apron Tension Devices

Traverse Motion


Draft Gearing Unit


Top Arm Bars


Top Rollers


Drive studs


Brake Pads


Material Handling- AGV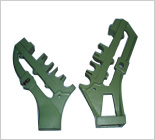 Nathan Make roller stands for

Ring Frame

Speed frames ( Simplex Frame)

Doubling roller stand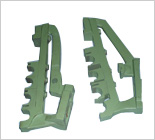 We manufacture Cast Iron Roller Stand which are made out of high grade induction melt Cast Iron, Most precisely machined, perfect in all aspect suitable for Ring Frame and Speed Frame and Doubling Machine as per your requirement of various center height and various drafting angles like 45°and 60° for Ring Frame and 15/ 10° for Speed Frame. We provide both Needle Bearing type Roller Stand and Bush Bearing type Roller Stand

1. We provide Roller Stand with and without slides for Middle and Back Lines.

2. We provide slides separately.