Our Products:

Fluted Rollers


Roller stands


Nose Bars



Bottom Apron Tension Devices

Traverse Motion


Draft Gearing Unit


Top Arm Bars


Top Rollers


Drive studs


Brake Pads


Material Handling- AGV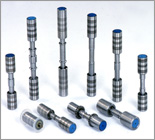 We manufacture Double Row Ball Bearing Top Rollers for Ring frames and Speed Frames. These Top Rollers are made out of Ball Bearing Steel machined by skillful hands in the modern machinery and assembly process to attain Top Quality by experience technicians. Our rollers provide friction free rotation for flawless yarn.

Features:
1. Top Rollers are manufactured using ball bearing steel
2. The special steel ball used are capable of withstanding heavy loads
3. Special care has been taken to prevent entry of fluff.
4. Double row bearings on either side ensure even load and pressure.
5. Provisions for easy greasing of top rollers are provided.

Range / Gauge:

1. Top rollers for any drafting system without cots.
2. Gauge from 63.5mm, 70mm, 75mm, 82.5mm, 90mm, 110mm and also special types of different gauges.
3. Loose bass (shell) width – 30mm, 34mm, 35mm, 40mm, 45mm and also special types of different diameters.