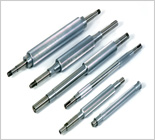 We manufacture Draw frame bottom rollers with optimal number of grooves with variation in pitch, groove angles and flute profile, along with special surface finish provide smooth running and better fiber control over the rollers. The rollers are made out of EN-9 Grade Steel, Cold Rolled Helical fluted or straight fluted rollers which provides more number of nipping points for better control of fiber and better cot life, High frequency induction hardened to withstand high pressure, precisely ground flutes to give better yarn quality. Depending on the number of deliveries per line we provide the fluted rollers in single piece or in joints as per the original standards.

1. Diameters : 20mm, 22mm, 25mm, 25.4mm, 27mm, 28mm, 28.5mm, 30mm, 32mm, 35mm, 38mm, 40mm, 45mm, 48mm, 50mm, 52mm.

2. Length – According to the number of deliveries either in single piece (without joints) upto 3500mm or with joints to your required length.